Narrative Evaluation Method
Honest + Reliable Feedback
Gone are the days of One to Five or Unacceptable to Excellent performance ratings.
All too often managers attempt to work the system to favor (or disfavor) employees, make themselves look better, or simply to avoid those uncomfortable talks everyone hates.
By removing the numbers, we've created a clean slate that levels the evaluation playing field.
Systematic and Customizable
Narrative Form
Removing the numbers from manager's evaluations forms allows for managers to have a more objective conversation with employees about performance.

Job Factor Library
Constellation HR has an extensive job library of over 120 compensable factors.  All factors can be customized to fit your organization if need, as well as custom factors can be easily and quickly created.

Assigning Factors + Weighing
With Constellation HR, you can easily assign a different set of factors to each department or job title.  This way employees can be evaluated on factors that are specific and applicable to the position or function

Employee Input Form
A proven better alternative to the traditional self-appraisal, an employee input form allows a company to ask open ended questions to give employees a forum to express their views and options.
How Narrative Evaluation Works
Managers will have 6 to 8 descriptive phrases to select from that best describes the employee's work. The manager must then provide examples or supportive explanation of why the employees work fits the description. This begins to write the narrative for the manager and takes the stigma of a "number" out of the process. Behind the scenes Constellation HR calculates a overall numerical ratings that are used in the merit planning section.
Authentic Review Process
To increase the objectivity of performance appraisals, we created a narrative evaluation method that we termed as "Authentic Review". Managers will only be working with descriptive phrases and not be able to have access to view the numbers behind the review.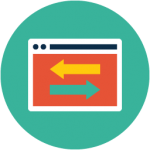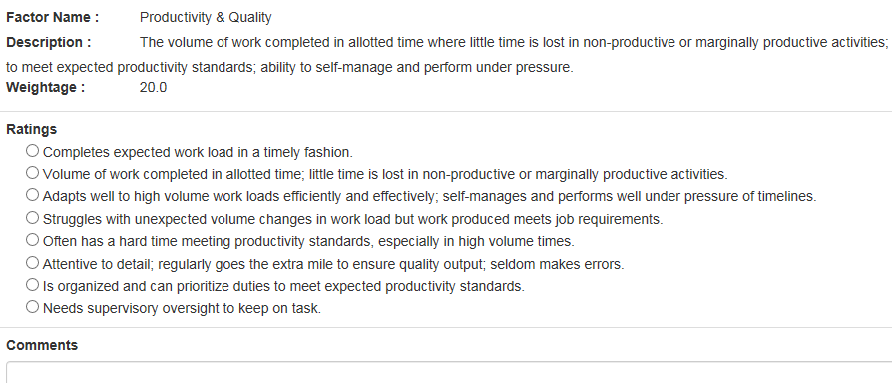 Easy to understand
By using natural language, managers feedback is honest and more reliable.
Our signature process is simple and effective, every bit as fast as simple number evaluations but so much more powerful
Not sure if you're ready to try the Narrative Evaluation Method?
That's okay, Constellation HR also allows for the traditional one to five (or one to three or one to four) methods of evaluating employees.
Evaluate what matters
Our extensive library of job factors makes evaluating merit a breeze.
You choose what matters to your company making evaluations personal and actionable.
Everything is customizable and if you happen to have a factor not in our library, it's simple to create it.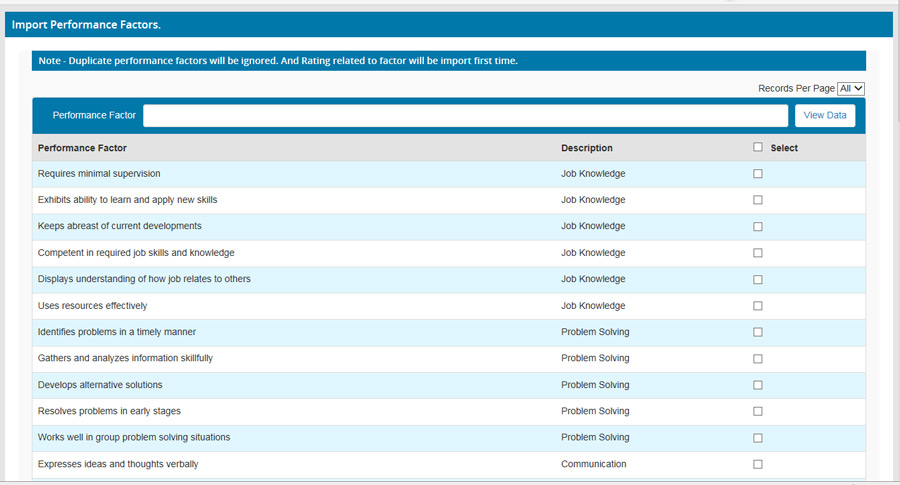 Once and DONE
It's easy to assign the factors you want to evaluate to an entire department all at once, saving you valuable time.
No more copying and pasting over and over again just to make sure you're evaluating everyone on the same team the same way.
Consistency across the board means better information for decision making.
Valuable employee input
It's never been easier to gather actionable feedback from employees.
Open lines of communication for better management-employee relationships.
With our customizable forms,  feedback is tailored to what you need to know so you can boost productivity and increase retention.